Our staff team has vast experience in caring for, safeguarding and creating Positive Outcomes for the children and young people living in our residential care homes. We provide a highly trained, skilled staff team that has the knowledge and dedication to work with children and young people from the most severe backgrounds, to help them create their own best possible outcomes and achieve their dreams.
Senior Management Team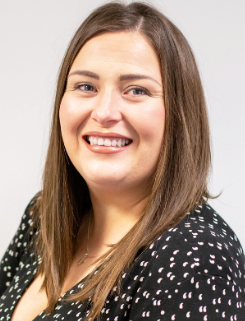 Natalie Waterhouse
DIRECTOR / RESPONSIBLE INDIVIDUAL
Natalie joined the New Horizons team in May 2019 as the company's operation manager. After a positive impact to the business Natalie was appointed as a Director responsible of all company operations and took over the position of Responsible Individual, who is responsible for the oversight of all homes.
Natalie is a knowledgeable professional, holding 13 years of industry experience. She started her career working with children with emotional and behavioural difficulties in the residential setting, progressing over time to opening a new home as the registered manager. Natalie has spent the last 9 years as senior manager supporting managers to provide homes which deliver the best possible care and outcome opportunities to young people. Alongside this, holding a development role, identifying, and opening new services which she continues to do within her role at New Horizons.
Natalie is a supportive leader to employees working within the company and takes great pleasure in being part of their future development, seeing staff map out their career goals and achieve their full potential. She creates a culture of high aspiration and positivity and instills high expectations of all teams to change and improve the lives of the children they are responsible for.
Natalie is particularly passionate of the high-quality care and support to be provided to our young people and believes that our young people deserve the very best. She shows a determined attitude, which added to her solution focused leadership style creates an environment which promotes confidence and ambition for our young people and their futures.
Natalie has her L5 in leadership and management.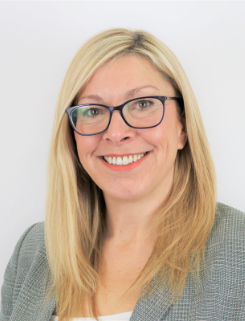 Tracy Sucksmith
DIRECTOR & BUSINESS DEVELOPMENT
Tracy has experience working as a Business Development Manager dealing with local authorities and their commissioning teams.
Tracy maximises business relations with quality and value to the care provided by New Horizons (NW) Ltd, also facilitates and negotiates tenders with the local authorities and forges excellent relationships with local authority commissioning teams.
She also develops our on-line presence developing our website and social media platforms. In Tracy's spare time Tracy enjoys spending time with friends and going on walks with her dog Dennis, who is also part of the New Horizons (NW) Team.
Management Team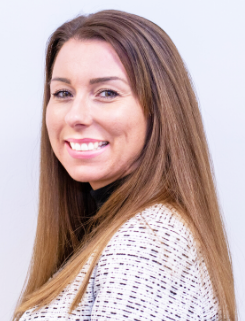 Ami Ashworth
SENIOR AREA MANAGER
Ami joined New Horizons in October 2019 after having a long career of working with children with social, emotional and behavioural needs.
Ami was a registered manager for 4 years who she led her team to achieve 3 "Outstanding in all areas" for 3 consecutive years and has over 12 years of working with children in a residential setting. Ami has a huge passion for progression for the young people we support, to give them new experiences and the chance to live in a home that has a home from home ethos.
Every child is worth 100% dedication from the staff team to help our children to move onto a very successful future. Ami enjoys coaching and mentoring the staff teams we have in place and also is very dedicated in investing in the teams, so they also have the chance to develop within the company.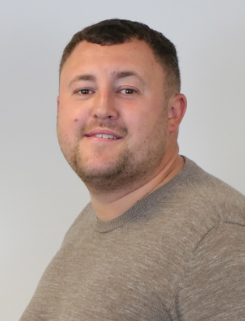 Reece McClintock
AREA MANAGER
Reece joined the New Horizons team in May 2020, Reece has worked within the industry of residential childcare for the last six and a half years. He started his career as a support worker and progressed through roles quickly through taking on various challenges and gained recognition.
Through this Reece spent time as a crisis manager going into homes that have received a Requires Improvement/Inadequate from Ofsted and getting them to Good or above in their next inspection. Following this Reece then opened a new service for his last employer which retained all staff leading up to the inspection in which they were awarded a good in all areas. Following this Reece ran two five bedded services prior to progressing to Area Manager at New Horizons (NW).
Other experience for Reece includes being the Governor of a residential school, overseeing behaviour and pupil engagement which received an Outstanding from Ofsted. Reece has 3 years under his belt as a qualified Team Teach instructor.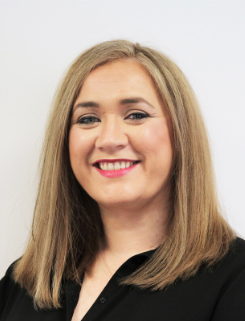 Hayley Thistlethwaite
OFFICE MANAGER
Hayley started working at New Horizons NW in August 2019 and previously worked in the Residential Child Care Industry for nearly 12 years. Hayley started as a care worker and worked her way up to a registered manager.
In 2016 she was given the opportunity to work as the office manager for an expanding residential care and education provider who specialise in supporting children with emotional and behavioural difficulties, as well as autism and learning disabilities. Hayley supported in all areas covering from business development, HR to training and health & safety etc.
Hayley has qualifications in health and social care, leadership in management and Health & safety. What Hayley loves about her job is supporting and progressing our staff to deliver quality care and support for our young people. Hayley says, "It's always brilliant to employ a residential support worker and see them progress and get promoted".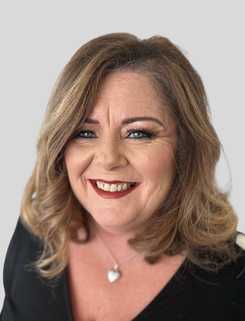 Louise Ryan
FINANCIAL CONTROLLER
Louise has recently been appointed Financial Controller in January 2020 to support the business during its sustained growth as we prepare for further expansion.
Louise has a wealth of business knowledge including extensive financial experience having held senior managerial roles across all aspects of the finance sector for over 35 years.
Louise will be responsible for the finance and accounting functions at New Horizons (NW) and be an integral part of the strategic outlook of the company.
Louise enjoys spending time with her family and friends especially when it involves eating out, holidays or even simple walks in the local countryside with her Bedlington Terrier Milly.
Office Support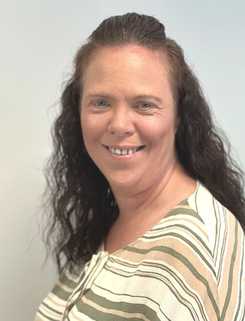 Gina Watts
FINANCE SUPPORT
Gina joined New Horizons (NW) in July 2021. She started her career in accounting at 17, then took a break to have a family. She went into the care sector part time as a carer, which led her back to her true path, working in accounts for New Horizons.
Gina says: "in my role I provide support to the financial controller in all aspects of accounting, for the homes. It's a varied role day to day, which I enjoy and have a good rapport with all the management and directors. I'm looking forward to the future and the expansion of New Horizons."
Gina enjoys time with her family, holidays (keen campers) and walking their dogs on the beach.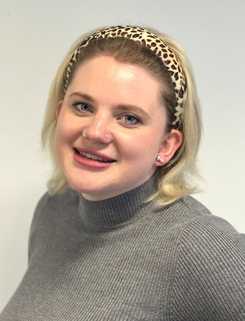 Hannah Tountas
HR & OFFICE SUPPORT
Hannah joined New Horizons (NW) in May 2022 after completing her BA Hons in Business Management at Lancaster University, specialising in Human Resources.
She began her career working in childcare and has since gone on to gain years of experience, working with adults with learning difficulties and vulnerable children in Residential Care.
She is always up for a challenge and enjoys problem solving. At home, she keeps herself busy looking after her two young children and enjoys taking them on outdoor adventures.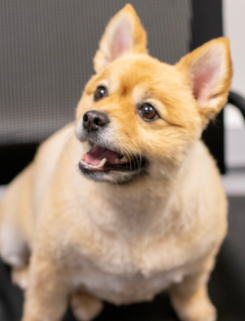 Dennis Sucksmith
OFFICE DOG
Working alongside my human parent, Tracy and her co-workers is fantastic for me, I get to meet all new people and don't have to be at home on my own. I especially enjoy it when our fantastic staff are here for their training as I get to have lots more attention and the odd taste of their lunches.
I like to make the humans feel comfortable when they come to our head office, especially when they are here for an interview, as I think it makes them feel more relaxed and shows we are a friendly team to work for.
The best part of my job is when I see the children and young people we care for in our lovely homes, they are lovely to me and I bring a little smile to their faces.
Being a Pomeranian, my human parent does make me go and get my long hair trimmed every 5 weeks, it's not my favourite thing to do, but I do need to look smart for the office.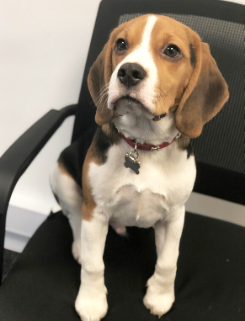 Alfie McClintock
OFFICE DOG
Since going to live with my human parents, I was so excited to be introduced to going to work with my human Mum. I have grown up being part of the office, and Dennis has been a great friend to me showing me the routines of being here.
I love it when all the humans come in for a meeting at head office, I get lots of cuddles and especially the odd treat. My human Mum has a lady come to the office 3 times a week and I get to go out on a huge walk and run, Bleu comes along too to that, so the afternoon in the office I don't really remember as I sleep through it, which is good for me as being a Beagle I am very inquisitive and want to see what's going on.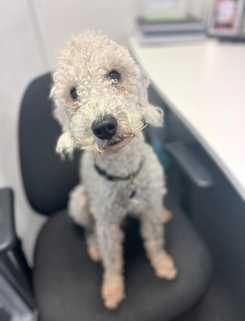 Bleu
OFFICE DOG
My human parent is our financial controller for the business and I have been coming to the office since I was a tiny puppy. I have grown up a lot now and I still love cuddles that the office team give me.
I am a Bedlington Terrier and people find me fascinating because of my fabulous looks. No offence Dennis and Alfie! I too love it when the humans come for training or meetings, more cuddles and the odd treat!
My human Mum also sends me with Alfie for walks 3 times a week, which is great and I, like Alfie snooze the afternoon away. Its great and dream of all the cuddles I get from the children and young people when they come and visit us here at head office.