A home from home when it's most needed
Maple House is a four bedroom detached house, close to all amenities and recreational activities, which has been specifically adapted to suit the needs of a children's home, for the accommodation of three young people of both sex between the ages of 7 and 17 years old on admission. The accommodation is decorated to a high standard, which is conducive to providing a friendly and homely atmosphere.
The home has three young people's bedrooms, a staff sleep in/office and a family bathroom upstairs. We recognise the importance of the need for both companionship and privacy. We have one lounge, which is aesthetically pleasing and comfortable. The home has a dining area where the young people can benefit from the family experiences that are had when eating a meal. The home has a fully fitted kitchen, with all the modern appliances. Downstairs there is also a toilet and snug area.
The young people are encouraged to have some input into the continued maintaining of the home. We believe in involving all of the young people with any project that is to be completed within the home. The rationale behind this is to give a sense of belonging and commitment to the home.
Each of the young person's bedrooms is warm and bright and we encourage all those who come and live with us to bring their own personal possessions so as to make their bedroom feel their own and we encourage this through personalisation upon arrival where each young person is given a room budget, this is to promote the young people taking ownership of their surroundings. We provide a TV in each bedroom.
Outside there is a large Garden and a parking area for vehicles.
Facilities
There is a large kitchen and living area combined.  With a single toilet downstairs.  There is also a separate cosy living room with a patio door onto the garden.  Young people can meet privately with their visitors with having two living areas.
Independence
Young people are encouraged to take responsibility for the cleanliness of their own space and possessions. The necessary equipment, washing machines, drier, iron, and vacuum cleaner are available.
Young people are encouraged to exercise choice of clothes and personal requisites that they buy, pocket money can be saved and the young people may open a savings account if they so wish.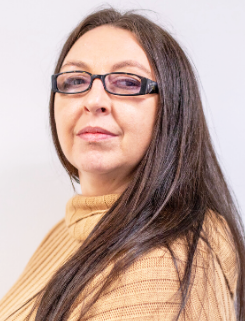 Rachel Soloman
REGISTERED MANAGER
Rachel became the manager in July 2019, has many years' experience and is passionate about supporting young people back to their family home, fostering or to independence.
Rachel has experience of working in multi bedded homes together with training and developing the staff team who all share the commitment to the young people they care for and is very committed in helping to make a difference to the young people's lives that her and the team care for.
Rachel has built a staff team around her that she had previously worked with, knowing the staff Rachel was able to build the team to have a wide range of experience to help and support the young people that would be cared for at Maple House.
Rachel herself was a looked after child and spent time in children's homes, with Rachel having this experience it gives her a good understanding from the young person's feelings and what they require to support them in to moving forward either back home or onto independent living.
Click to view the gallery